Kathrin is an endless optimist, in love with the mountains and always exited when she finds another vegan dessert. Two years ago, she decided to quit her save and well-paid job in an international cooperation to learn more about the world. Frustrated from all the problems on our planet she wanted to find local solutions. To her own surprise, she found amazing organizations all over the world nobody seemed to know. She started to share the stories of these grassroots organizations (small nonprofits / NGO) on her podcast together with her thoughts around conscious travel. During these conversations she realized: These local, social and sustainable projects change the world on their own, right where they are and we can learn a lot from them.
Inspired by her own experience, she wanted to enable others to find sustainable and local organizations as well. The question was: How can I bring these two groups together? People, who seek a genuine cultural experience and grassroots organizations, who need to be heard.
give & grow is Kathrin's solution to the problem. We empower you to find local projects and help or learn on travels in a responsible way. Because once we encounter each other on eye level, this holds the opportunity to transform the way we see each other and recognize that we can change the world together.
Quit his insurance job, studied PR and journalism and went to travel the world together with Kathrin. Wojtek is the creative mind behind give & grow and he loves to share stories. No matter if videos, photos or through his texts. He is also in love with martial arts but this is a different story. He takes care of everything around marketing and PR. Oh and the logo is also from him, cool right?
After studying, Steffi worked in the games industry as a developer and software tester.
Although she liked the work atmosphere and her colleagues, she quit her job 2017
to have more freedom and work remotely. The one thing she really cares about are animals. No cat is save from getting lots of love from her she is always looking for local groups focusing on animal welfare and conservation.
Personal Relationships
We either visited the project ourselves or someone we trust did.

Strengthening bonds to our users – 

we offer our support and are open for your questions, anytime.

Deep connections across borders – this is what we want to enable with this platform.
Respect
No person is superior. No matter their nationality, origin, believes or physical appearance. We are all equal.

Learn from each other. We encourage a global exchange beyond a western perspective.

Embrace local life. We engage open-minded and respect the way people want to live.
Transparency
100% of the donations get to their cause (minus banking fees).

We are a charitable organization and therfore legally transparent.
Local Heroes
You can be a part of local change as an assistant, observer or partner for a certain time period.

Solutions are developed where you find challenges. You can come, listen, learn and provide the missing pieces.
Ok, and what is give & grow exactly?
give & grow is an educational online platform for responsible volunteering, sustainable travel and positive progress.
We talk about solutions and how you can be a part of it.
It is a place for open-minded change-makers and conscious travelers.
Rethink voluntourism and #reshapevolunteering
Education
Once you are informed, no one can sell you dubious volunteering trips or stop you from making a real change. This is why you will find blog articles, videos and soon also an online course that trains you to be a responsible volunteer. Learn how you can really help!
Empowerment
Everyone of us knows the big ones like WWF and UNICEF. But even they have local partners on the ground. We want to give a voice to those local organizations directly. Our vision is to make local solutions louder and to give you the opportunity to support them directly.
Network
We are more together. You are looking for exchange with other change-makers that have the same questions and want to give back in the same way? On give & grow we are building a community platform exactly for this purpose. Even tough volunteering seems to be intransparent and blurry – we can create transparency together.
We strive for a world where we connect, learn and work together on eye level to solve global problems.
What is the problem with volunteering?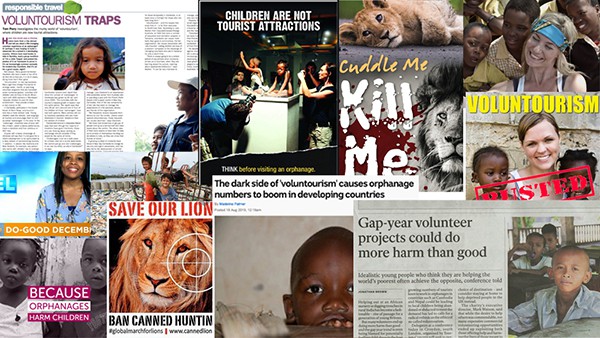 There is one big issue with volunteering. Organizations are at the core of their local challenges, solving them every day. They are transforming their circumstances into sustainable opportunities and solutions. Watching them, reminds us: They do not necessarily need us to make a change.
Actually, depending on the situation, volunteers sometimes replace local jobs, create additional unpaid work for their caretakers or can even harm vulnerable beings (e.g. children and animals). Unintentionally and unknowingly – yet, it still happens regularly.
But there is a better way to volunteer and support local communities! A transparent, sustainable and effective one, benefiting everyone involved: volunteers, organizations and locals alike.
You want to support our mission?